Mayumi Pohl (President / Executive Director)
Greetings in the name of our Lord Jesus Christ! Our focus is on discipling new Japanese Christians, while relying on God's guidance, wisdom and patience everyday. Our slogan is, "To become a fruitful Christian." All Christians are called to bear the fruit of the spirit- Christ like character- (Galatians 5:22) and make disciples of Christ (Matthew 28:19-20). We are convinced that if the process of disciple making is firmly established, Japan and the whole world will be changed. God's glory will be revealed by the real followers of Christ and the proclaimed Gospel.
Far too often, young Christians are not discipled after committing their life to Christ. The Scripture clearly reveals that it is God's will that new Christians need to be nurtured until they become a committed disciple of Christ. Discipling takes a lot of time and energy. However, we are thankful that you are an important part of the ministry, and we all can make a difference in the area of discipleship. We pray that God's kingdom will be spread by more disciples -true followers- of Christ.
Colin Yoshihisa Sewake (Staff Manager)
Mr. Sewake, a native of Hawai'i, graduated from the University of Hawai'i in 1994, and moved to Okinawa to serve in the U.S. Air Force. He has served as a Squadron Commander responsible for leading and managing over 70 U.S. and Japanese personnel. Along with his primary military duties, he has also conducted exchange work with the Japan Air Self Defense Force and volunteers as a Senior Advisor and financial management board member to the Kadena Special Olympics. Colin continues to serve as a Lieutenant Colonel on the U.S. Forces Japan staff in the U.S. Air Force Reserves.
Although he actively participates in the leadership of his church, it wasn't until he traveled to Georgia in 2011 and began studying under a discipleship program, that he developed a greater understanding, respect and knowledge of the Word. He continues a mentoring relationship with the man who discipled him. Colin is prepared and equipped to disciple others, passing along what he has been taught (2Tim.2:2) in obedience Christ's command to make disciples. (Matt.28:19-20)
Matthew Barany (Director of Mobilization)
Matt is from Woodbridge, NJ. Matt accepted Christ at the young age of 4 and grew up in a family of 6. He has felt a call to missions and to reach people for Christ since he was 8 years old. Matt grew to love missions and getting to connect with people from others cultures, especially from East Asia. In 2007 God laid Japan on Matt's heart and since then his passion and desire to see Japanese reached for Christ has only grown. Matt took his first step into working directly with Japanese as a volunteer with Second Level Ministry in February 2016. He is now serving as the Director of Mobilization. He attends conferences for networking purposes, manages social media, participates in ongoing discipleship, does student ministry and is involved with a local Japanese church plant as a core member in Atlanta, Georgia.
Yumi Ikeda (Director of Soul Care)
Yumi was born in Kagoshima, Japan. She was saved at the age of 19. She went to Immanuel Bible Seminary. After graduation, she served as a pastor under Immanuel General Mission for 4 years. As she dealt with people who were suffering from experiences at cultic churches, she desired to pursue the establishment of healthy church environments and living a well-balanced spiritual life. She graduated from Talbot School of Theology at Biola University in 2019 and earned a MA degree of Pastoral Counseling. She has a vision to spread the soul care ministry in Japan. Currently, she is serving as a Soul Care Director, providing counseling sessions and mentoring through Second Level Ministry.
Tim Ingle (Media Director)
Tim grew up in the suburbs of Washington D.C. and now lives in Orlando, FL with his family. He has a BFA in Kinetic Imagery: Video and Animation from Virginia Commonwealth University, and a MA in Communications: Media, Faith and Culture from Regent University (VA). He has been working in media production for more than 20 years with a focus on animation production. Tim has worked on international television animation, pilots, music videos and commercials. He has had a love for the people and culture of Japan since childhood that turned into a calling in adulthood. For ten years Tim was the chairman of Let's Love Japan, a media outreach organization to Japan. Tim serves in the media development of the mission of Second Level.
Steven LaVoie (Student Care Coordinator/ Administrative Assistant)
Steven is a native of Akron, Ohio. When he was a child, he loved to learn all kinds of languages and had a special interest in anything related to the Japanese language or the art of bonsai! It was not until 2012 that he sensed God was leading him to pursue full-time cross-cultural work although he did not know where yet. After many years of exploration (including a year of working with the Chinese and French) and a degree from The Moody Bible Institute to serve as a solid Biblical foundation, God led him to Second Level. He is now serving as a Student Care Coordinator in Atlanta, Georgia.
Jose and Miki Medina (Japanese Community Outreach Coordinator)
Jose and Miki met in Tokyo, Japan in 2012. Jose was serving as a missionary with the International Mission Board (IMB). They both did ministry together and helped mission teams serving Japan, were active in a local church plant, and held Bible studies weekly. After getting married in 2015 Miki moved to San Antonio, Texas, they both still felt a call to minister to Japanese in Texas. In time, Miki started a mom's group that met monthly. Now Jose and Miki will be working together to reach Japanese in San Antonio with Second Level Ministry as Japanese Community Outreach Coordinators.
Madalyn Walters (Japanese Community Coordinator)
God first gave Madalyn a love for Japan in college, where she was involved in international student ministry for four years. Her love for Japan grew during this time by making Japanese friends, visiting Japan with them, studying the Bible with them, and studying Japanese language in college. After graduating, she moved to Japan to teach English at a kindergarten. After this, she served with a church plant in Tokyo under Reliant for almost two years. During this time, she partnered with Second Level and is excited to continue Japanese ministry Stateside. She is passionate about multiplication and discipleship and has invested in Japanese people over the years by serving mothers, children, and college students through teaching English, Discovery Bible Studies, event planning, and other ministry activities.
Ethan and Becca Silveus (Discipler and Mobilizer)
Ethan and Becca met at Grace College in Winona Lake, Indiana. God developed a deep love for ministry in both of their hearts. During their final year at Grace they both worked with Encompass World Partners as interns for 4 months. During their internship they were connected to Second Level and enjoyed meeting with students and participating in Japanese Christian Community in Atlanta.  After graduating in 2019,  Ethan and Becca were married and moved to Georgia. They hope to one day go to Japan to disciple and share the gospel through intentional relationships. Currently, Ethan is serving full time with Second Level as a Discipler and Mobilizer, and Becca has been serving as a volunteer in various capacities with Second Level as well.
Keiko Yamada (Spiritual Director)
After actively taking part in discipleship and cross cultural mission through CRU for 10 years, Keiko began to see the need for a holistic care for Christian's inner self. As a spiritual director, she seeks to accompany those who are in need for a spiritual companion to help them discern what God is doing in their life. After graduating with MA in Spiritual Formation and Soul Care from Talbot School of Theology (Biola University) in May 2018, she has been providing Spiritual Directions to people of multiple different backgrounds. Being a classically trained pianist and a painter herself, she uniquely combines her gift of music and art into spiritual direction. She is also a registered Spiritual Director of Evangelical Spiritual Directors Association. Cross-Cultural Pianist, Artist, and Spiritual Director bit.ly/keikostoryteller
Keiko Lillis (Finance Assistant)
Keiko was born and raised in Tokyo. As a result of her mother being a Christian, she attended church since her childhood. She was baptized at Hijirigaoka Church (United Church of Christ) when she was senior of high school. She served as a Sunday school teacher for elementary school children for 14 years. She joined Campus Crusade for Christ while studying English in California in 1989. During this time she confirmed that God will be always be with her. After getting married in 1993, she lived in Tokyo, Sendai, and California and experienced various type of churches. She moved to Atlanta, Georgia in 2012 and was introduced to Second Level Ministry. She has been organizing a Bible class for non-Christian Japanese people called "Izumi-kai" since September, 2014. She started serving as an office staffer for Second Level Ministry since November, 2014.
Wakako Minamoto(Associate Staff)
Wakako is from Okinawa. After living in Okinawa, she lived in California, New Zealand, and Hawaii. Now she is blessed with four children and lives in Atlanta, Georgia. She was saved when she was in high school, and she has always believed that God is taking care of her. Her home church is Naha Baptist Church, but in each local church that she have been involved in thus far, she served in Sunday School, Bible studies, the choir, children's ministry, and others. The Lord has arranged her path so that she could serve up until this point. Now she is passionate about saving lost souls in Japan and making disciples. She went to a mission trip to Okinawa through Second Level Ministry twice. As the associate staff of Second Level, she serves the Lord in leading discipleship and prayer meetings through Skype.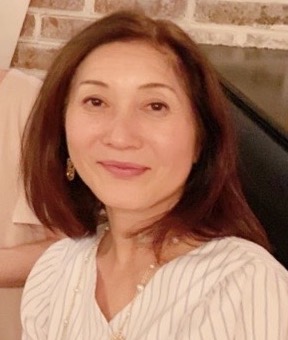 Kimiko Newman (Associate Staff)
Masayo Fujiwara (Associate Staff)
In1999, Masayo accepted Jesus Christ as her Lord and savior. And in March of the year 2000, she was baptized while on traveling for language studies in America. At a Urbana conference, she was told about the word of God and her life changed 180 degrees. She started experiencing the salvation of Jesus and the joy of the Lord. After she returned home to Japan she got married, and she now has four daughters and life is very busy. She is always receiving a breakthrough from God in living her life with Him and she is enjoying life. She always feel that growing in Christ is always the most important thing in her life and decided to involve in Second Level Ministry as a staff in Japan.
Yoshiko Murata (Associate Staff)
Yoshiko was born in Tokyo and grew up in Kobe. She experienced the Great Hanshin Earthquake when she was seventeen years old, and began to seriously face issues like the purpose and value of life. She came to America to participate in a homestay program in March 1998. She was surrounded by many wonderful Christians, and was saved when she encountered the presence of the God she had been seeking and accepted Christ as her savior.
While studying in Alabama, she grew in her faith through Bible study and fellowship on campus. She worked as a childcare worker in Chicago, and even after returning to Japan she continued working with children at her church.
In her life's journey, she desires for the Lord to guide and appoint her day by day. She realizes the importance of living by faith, seeking further growth as a disciple of Christ. Through prayer, God revealed the way to serve as a staff of Second Level Ministry.
Sanbi Wood (Intern)
As a Second Level intern, she is learning to serve God and others. In the summer of 2018, she served in a short-term mission trip in Osaka and Tokyo with team members from Second Level.
Hikari Wood (Intern)
As a Second Level intern, she is learning to serve God and others. She is planning to serve in a short-term mission trip to Osaka and Tokyo in the summer of 2021 with Second Level.
Kyle Robinson (Intern)
He was born in Texas and has lived in Georgia for ten years. He became a Christian when he was a kid, and in his first year of college he started studying Japanese. In 2008, he served for six weeks at a church in Aomori with the mission organization OMF International. In 2009, he studied at Kansai Gaidai in Osaka as an exchange student. He became involved in a church called Jesus Lifehouse Osaka. As a Second Level intern, he serves as a translator.
Kaori Noda (Intern)
As a Second Level intern, she is learning to serve God and others.
Brand and Naomi Fogerty
Brandon and Naomi serve as a programmer of Second Level Ministry.
Are you interested in serving with us as a team?
Please contact: baranymatthewjr@gmail.com